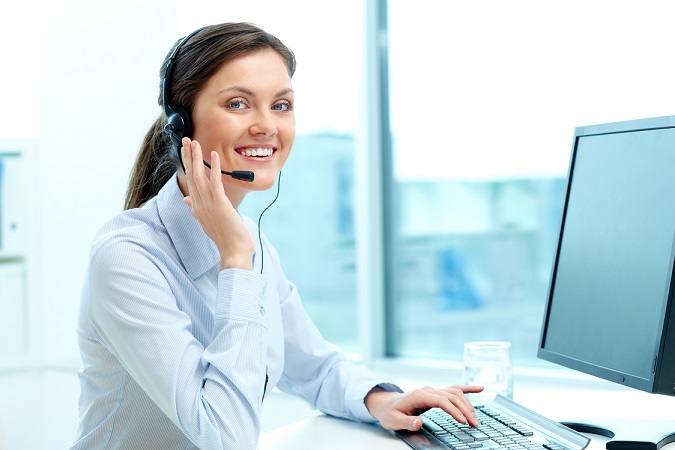 Contact center outsourcing services from the top resource in Dubai
Essential to achieving success in the corporate world is understanding the needs of your target market. The best way to do that is to talk to them – acquire feedback regarding aspects they appreciate from the service or product you provide and the aspects that require further improvement. That is why it is vital for businesses to have a customer contact center that can assist customers and collect feedback simultaneously. However, not small and medium-sized companies have the resources or the capability to facilitate an in-house team of customer assistance personnel.
Back Office empowers businesses with call center capabilities, without having an entire team on the payroll, working in-house through optimised contact center outsourcing services.
Partner with one of the foremost call center outsourcing companies in Dubai and the UAE today
Back Office runs an advanced customer interaction facility that features extensive computer-telephony integration. This allows us to adopt customer databases into our customer relationship management system, develop project frameworks, and launch projects, within a short timeframe.
Our CTI-enabled customer interaction facility is capable of delivering a range of solutions designed to meet the needs of modern day businesses, including the following:
Inbound helpdesk solutions
Answering services
Customer surveys/mystery shopping
Order taking, coordination, and delivery
Lead generation and outbound telesales
Inbound/outbound technical assistance
Database development and cleansing
With our comprehensive customer interaction solutions, businesses can measure the performance of their processes, provide customer assistance, perform outreach, and gather data for operational improvement, without allocating the commensurate resources.
Flexible contact center services scaled to meet your operational requirements and budget
Beyond our technological capabilities, we believe the true driving force of our growth are the people who make up our team. From our team of network specialists and developers to our highly-trained customer service representatives, the people who work with us are the lifeblood of our success.
Our team allows us to deliver highly flexible and scalable service packages, which include development, execution, and integration of projects, within the expected timeframe. Whether your business needs professional receptionist services or outbound telemarketing, Back Office can customise a package that meets your specific needs.
Call Center Services
Are you unable to connect with your customers?  Customer service is the key element to increase the profitability of a business. The importance of following up with your clientele can make all the difference when it comes to your sales. The act of listening to complaints and taking regular feedbacks has immense influence over the customer's experience.
If you're struggling to maintain a strong bond with your patrons and clientele, it is best to leave it to the experts.
Build Strong Corporate Relationships:
Serving people in-person have significant psychological effects. Our call center outsourcing services will help you connect with your customers as well as with your clients and vendors. Quality customer service will allow you to take timely reviews and resolve issues efficiently. Make your customers feel important with the help of Back Office contact center services.
The cutting-edge technology used to manage your clientele isn't the only reason to choose us over other competitors. The team at Back Office is equally responsible to guarantee customer satisfaction. With years of experience in call center outsourcing services, we take pride in our highly skilled workers and representatives.
Call Center Company in Dubai
Our call center outsourcing facilities are equipped with CTI (computer telephony integration) which allows you to integrate your database with our CRM. The time having technique is all you need to implement your projects.
Revolutionize your customer experience:
If you want your customers to keep coming back and stay loyal to your brand, investing in a call center solution might be the best decision for your company.  Professional call center services will help develop an emotional connection with your customers.
Call Center Services for Small Business-Dubai:
Small businesses often struggle to find a trusted third-party organization to manage their call center services. The lack of resources and a limited budget may hold you back from spending on expensive packages. However, answering every phone call yourself can be challenging. In such a situation, an affordable yet competent call center solution is all you need.
If you're searching for the perfect call center in Dubai for your startup, Back Office is ready to assist you. Our charges are amazingly affordable without compromising the quality. A team of competent individuals will be assigned to manage your customers.
We at Backoffice, have high regard for our clients and their customers, therefore; we emphasize strong emotional ties with your company. This method ensures a higher rate of customer retention and brand loyalty. We also offer automated interaction services for a quick response. There is no limitation to your company size when it comes to our services. Whether you own a small company or a huge enterprise, back office has something for everyone.
Contact Center in Dubai
Looking for a budget-friendly call center company in Dubai? Back Office can help you with customer retention and brand loyalty issues. Our competent team of experts strives to help you meet your client's expectations and achieve your targets.
Contact us today at 044 327 666 and let your customers experience the highest level of satisfaction.
Streamline your operations towards your core business
Optimize your business processes and maximize your resources. Partner with one of the leading call center outsourcing companies in Dubai and the UAE today.
Back Office FZ LLC,
Building 4, Ground Floor,
PO BOX 84921,
Dubai Outsource Zone, Dubai